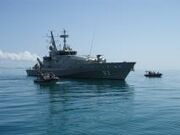 The Armidale-class patrol boat is currently the primary offshore patrol vessel of the Royal Australian Navy. It is built by Austal in Australia and is based on an earlier design for Australian Customs. Despite early teething troubles (which rendered the vessel unsafe) it has now matured into a compact and capable design. Primary armament is the Typhoon 20mm cannon. For the boarding of suspect vessels the Armidale is equipped with two RHIBs as opposed to the one on the earlier Fremantle-class.
Ad blocker interference detected!
Wikia is a free-to-use site that makes money from advertising. We have a modified experience for viewers using ad blockers

Wikia is not accessible if you've made further modifications. Remove the custom ad blocker rule(s) and the page will load as expected.