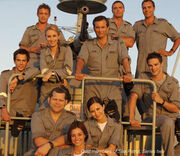 Sea Patrol follows a core group of characters throughout the seasons.
Main Characters
Edit
CharacterEdit

Mike Flynn "CO"

Lieutenant Commander

Commander

Captain (end of Season 5)

Ian Stenlake

Season 1 - 5

Kate McGregor "XO"
Lieutenant
Lisa McCune

Season 1 - 5

Nikki Caetano "Nav"
Lieutenant
Saskia Burmeister
Season 1 - 3
Andy Thorpe "Charge"
Chief Petty Officer
John Batchelor

Season 1 - 5

Chris Blake "Swain"
Petty Officer
Matthew Holmes

Season 1 - 5

Pete Tomaszewski "Buffer"
Petty Officer
Jeremy Lindsay Taylor
Season 1 - 3
Dylan Mulholland "Dutchy"
Petty Officer
Conrad Colby
Season 4 - 5
Josh Holiday "ET"
Leading Seaman
David Lyons
Season 1 - 3
Robert Dixon "RO"
Leading Seaman
Kristian Schmid

Season 1 - 5

Leo Kosov-Meyer "2 Dads"
Leading Seaman
Nikolai Nikolaeff
Season 3 - 5
Toby Jones "Chefo"
Able Seaman
Josh Lawson
Season 1
Rebecca Brown "Bomber"
Able Seaman
Kirsty Lee Allen
Season 2 - 4
Billy Webb "Spider"
Seaman
Jay Ryan
Season 1 - 3
Jessica Bird "Bird"
Seaman
Danielle Horvat
Season 4 - 5
Ryan White
Midshipman
Dominic Deutscher
Season 5
Recurring Characters
Edit
Character

Edit
Commander Steve Marshall
Steve Bisley
Season 1 - 3
Commander Maxine White
Tammy MacIntosh
Season 4 - 5
Seaman John Jaffah
Tye Harper
Season 1
Dr. Ursula Morrell
Sibylla Budd
Season 1
Rick Gallagher
Martin Lynes
Season 1
Ray Walsman
Alan Dale
Season 2
Captain Jim Roth
Ditch Davey
Season 2
Simone Robsenn
Jessica Napier
Season 3
Matt Robsenn
Blair McDonough
Season 3
Ad blocker interference detected!
Wikia is a free-to-use site that makes money from advertising. We have a modified experience for viewers using ad blockers

Wikia is not accessible if you've made further modifications. Remove the custom ad blocker rule(s) and the page will load as expected.