HMAS Hammersely is the fictional the patrol boat featured in the TV series Sea Patrol.
Season One
Edit
In the first season, the HMAS Hammersley is a Fremantle class patrol boat, portrayed by the real-life ships HMAS Wollongong and HMAS Ipswich. This boat is scheduled for
decommissioning in just 6 months, and her crew, the CO especially are working hard to ensure that she goes out with a bang and her new co is Mike Flynn
Season Two
Edit
From season two onwards, the HMAS Hammersley is an Armidale class patrol boat (portrayed by HMAS Broome and HMAS Launceston), the Fremantle class patrol boats having been decommissioned.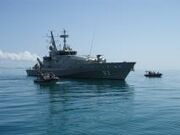 Ad blocker interference detected!
Wikia is a free-to-use site that makes money from advertising. We have a modified experience for viewers using ad blockers

Wikia is not accessible if you've made further modifications. Remove the custom ad blocker rule(s) and the page will load as expected.