Nicole Caetano (also Nikki or Nav) is the ships navigator on-board HMAS Hammersley.
Nicole Juliet Caetano
250px


Name

Nicole Caetano

Nickname

Nikki, Nav, Navi

Gender

Female

Rank

Nicole Caetano

Position

Navigator

Family

Four older brothers, Joshua Holiday (Fiancé)

Portrayed by

Saskia Burmeister

First Appearance

Ep. 1.01 (Pilot)

Last Appearance

Red Reef Ep. 3.13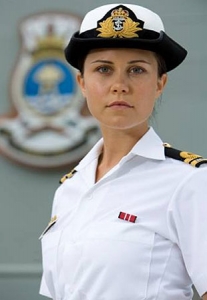 Personal life
Edit
In season one Nikki started a relationship with fellow shipmate ET. When the XO finds out about Nikki and ETs secret love affair she takes it professionally but decides not to say anything because of the friendship that XO and Nikki find between themselves. When ET gives her a clown fish and proposes to her, she is overcome, but begins to worry when ET misses the ship, after it had been crash sailed. When it's discovered ET was murdered along with the rest of his workmates on a diving boat, Nav is heartbroken and is tearful for most of the episode.